Hello!
Good product is not an option while packaging becomes crucial to make a first impression. Good products do not sell themselves. They need to be packaged and marketed well to get attention. Like Steve Jobs's quote, every packaging tells a story. The product is the raw item that customers will experience, but it is the packaging that contributes to the aesthetics of the product and it deals with our emotions.
This edition features a blog about how product and package are indeed two sides of the same coin. It features Appy and Proppy in conversation with their mentor Lucky again to discuss how product and packaging complement each other.
Featured articles from the web discuss how a startup can test-market a product, and another article says what the ingredients of an admirable brand are. Two of the ingredients are a reliable product and how it is packaged.
Another article talks about why packaging is important and how it can be interesting enough to catch people's attention. We also have articles about packaging that are impressive enough to sell as its own product.
We have an infographic explaining the relationship between product, package, and value. I hope you will gain value out of this.
We end the edition with an illustration depicting the paradox that we often land up without our knowledge.
I hope this edition sparks your Product & Package.
Chief Innovation Coach
Product and Package as Inseparable Twins
The product is the real value creator, the one which is built to solve the users' problems and package enables sale. Read how Appy & Proppy discover that product and package are two sides of the same coin and is integral to innovation.
5 Creative Ways To Test-Market A New Product
If you are an entrepreneur who is exposed to your concept/ product idea for a long time, then it's most likely that your opinions are biased towards your product. Launch and marketing of a product based on a biased opinion can be a waste if the product is a fail. This article gives an insight into how test-marketing your product can save you time and money in the long run.
Ingredients to Build an Admirable Brand
Creation of a brand demands the presence of many ingredients, packaging is one of them. It is the element that helps attract the customers to the product. This article talks about these elements and narrates how Paper Boat's unique packaging helped them enter the beverage market.
5 Design Tips For Making Your Packaging Interesting
A good product deserves equally great packaging. Providing a great unboxing experience is very essential for overall customer satisfaction. This article gives incredible design tips to make your packaging interesting.
UK Startup Launches New Art Packaging Solution Set to Revolutionise the Industry
Rokbox lets you carry a variety of artwork, at the same time, eliminating the need for disposable packaging. The artwork is clipped into a floating panel that sits firmly inside an outer shell. The design has won many awards.
INFOGRAPHICS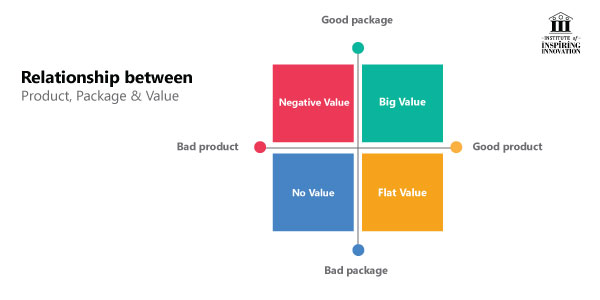 FRAGMENTS FROM THE SCRIPT
INNOVATION PARADOX